The web pharmacy gives patients another digital option for prescription management. Much like the mobile app, the web pharmacy provides a variety of prescription management features.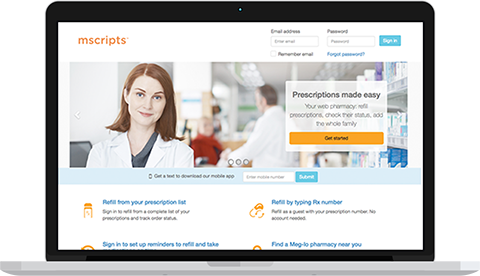 Refill from Prescription List
My Prescriptions displays patient medications along with prescription number, dosage, quantity, fills left and expiration. Patients can refill directly from their prescription list.
Refill by Typing Prescription Number
Patients can refill their prescriptions without logging into the app by typing in their prescription information.
See prescription expense report
Patients can track their out of pocket costs for prescriptions. The report tracks expenses for both filling new prescriptions and refilling existing ones.
Find a Pharmacy
Pharmacy Locator allows customers to easily find a pharmacy. The feature includes: get directions, pharmacy hours, contact information (with click-to-call functionality), and service offerings (clinics, flu shot, and more).
Manage Doctor Information
My Doctors allows patients to organize their doctor/patient relationship. Patients can see their Healthcare provider's contact information and call or fax the doctor directly.
Manage Account Information
Within My Account, patients can easily set up reminders (via text, push or email) manage their notification preferences, and more.
Signing up patients is easy!